So I decided to swallow my fear (of what?) and do some KoolAid and Wiltons dyeing. The Joann's over in the Waterworks is going out of business, so I stocked up on Wiltons and undyed wool (seriously, like $3.50 a skein, what a steal!). I decided to start with the Wiltons and do half my skeins (I bought 14). My first little beauty didn't come out as anticipated, but it's ok. The microwaving method DID NOT work for me (plastic wrap popped in the microwave and I had Wiltons everywhere, made a pretty paper towel, though). Steaming on the stove seems to have worked a bit better, but I wasn't as good at getting the color all the way through, so it's a little funny looking with those white patches in there. I was blown away by the violet, though. I'd been hearing about how it "splits" and I love it! my attempt to dye the skeins all wrapped up didn't come out as well, but I overdyed them with sky blue and royal blue, and oddly they came out the same color.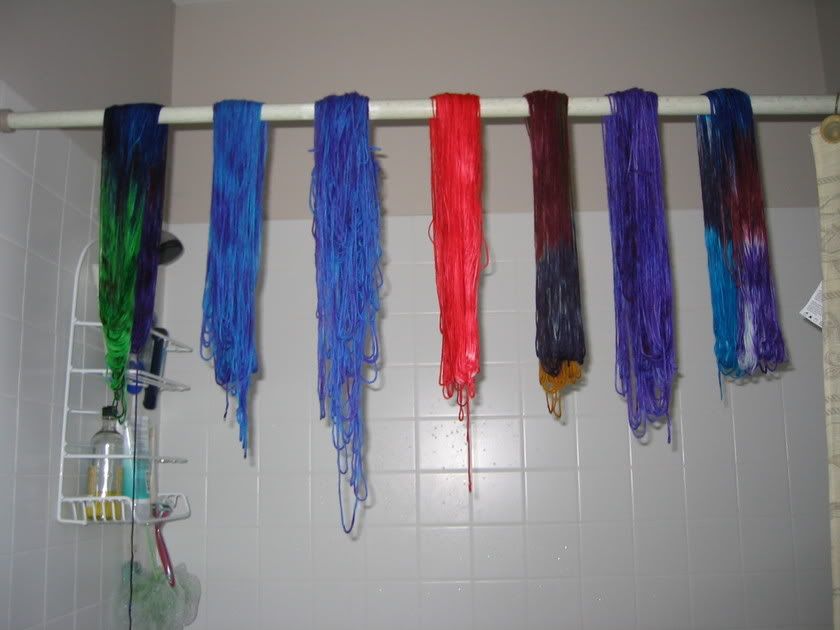 So, from left to right hanging over the shower rod, we've got all Wilton's, except for the red/pink one in the middle, which is strawberry KoolAid. The second from the right is Wilton's violet, and I LOVE the way it split. the two blue and purple ones on the left are violet and sky blue, on the left, and violet and royal blue, on the right. Funny, they look the same in that picture... I'll have to upload another one once they're all skeined up and dry. The one to the right of the KoolAid one is my first attempt, the one that exploded in the microwave. Damn thing was impossible to wash clear, it's still dripping yellow!
Eh, what can you do, right? I've got a nice batt of merino and mohair that my mom got me for Christmas that's just beggint to be dyed, and I just can't decide what to do with it. Maybe I'll try painting with KoolAid next, since I'm pretty tickled with that red/pink one. These are all destined to be hats. Maybe I can sell them as "designer originals" or something!