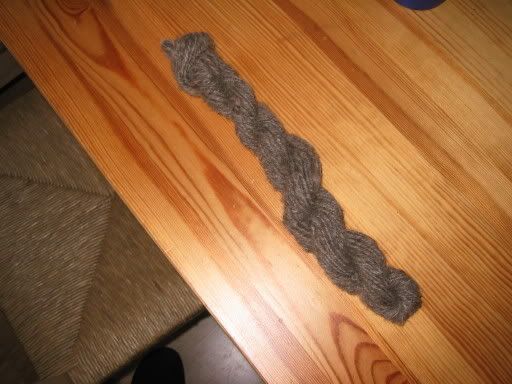 As promised, a picture of my little navajo plyed skein of Border Leicester. That navajo plying is pretty darn cool, I'm definitely going to have to do that again. And the Border Leicester was really greasy for some reason, like it had a whole lot of lanolin still in it, which was actually probably pretty good for my poor chapped hands. Too bad I didn't have enough for a nice little waterproof hat or something. Not quite sure what I'm going to do with it, other than go "ooooh, navajo plying...."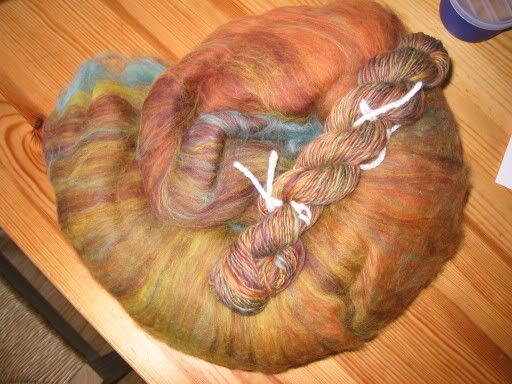 And we also have here my beautiful merino from Grafton Fibers, complete with a nice little skein of singles that's just waiting to have the twist set (I'm waiting until I have another so I can just do two at a time). You can't really tell from the picture, but this batch of M30 (I bought two batts, just to be sure I had enough) has a lot more yellow in it than the last one did (I don't think there was any yellow at all). It's spinning up kind of cool, and I'm amazed how quickly I actually can spin on that drop spindle. Of course, I should be doing lots of other things, but what the heck, ri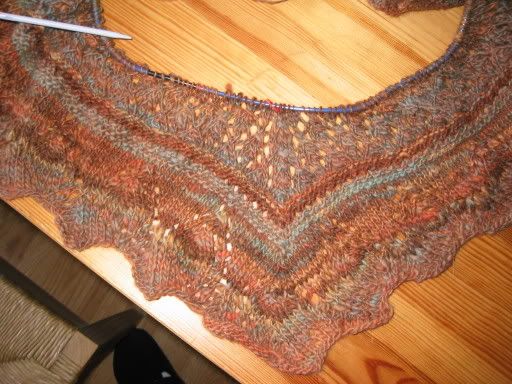 ght? You can also see the middle of the shawl that I'm making out of the M30 I've spun already (it's the Estonian shawl from the
Scarf Style
book), I'm pretty tickled with how the turquoise stripe ended up right in the perfect place. There's a detail of the stitches underneath, since it didn't capture very well in the first picture. I was going to do it for the spindlicity shawl contest, but I don't think there's any way I'll have it finished in time, unfortunately. I may have to call it the "Grand Canyon" shawl, since it reminds me of nothing so much as the wonderful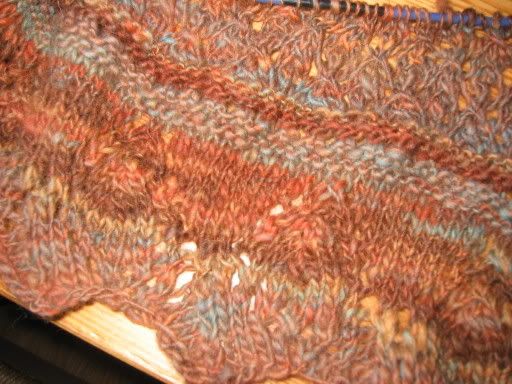 sediment striations that you see at the Grand Canyon (or in my case, see pictures of, since I've never actually been to the Grand Canyon).
And in other news, we are still waiting... and waiting.... and waiting.... to hear from Google. Supposedly tomorrow now we'll hear something, though I know I won't be surprised (just extremely frustrated) if tomorrow comes and goes with no new news. I'm ready to start scouting houses in Minneapolis, but we've got to wait, it still might happen with Google, you never know. And in my agitated state, I'm having a very hard time concentrating, so am doing lots of spinning and spindling so that I don't absolutely lose my mind. My studies are suffering, but my fiber has never looked better.