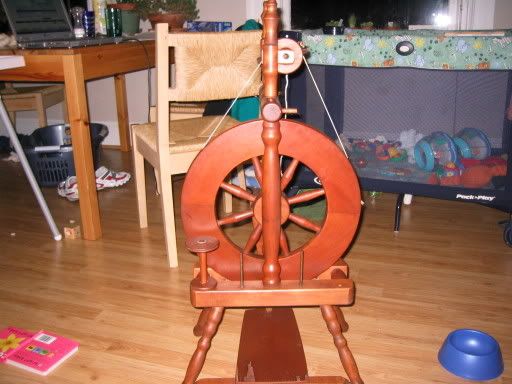 After much lusting after spinning wheels (and much productive time spent drooling over them on the internet) I now own my very own! Ladies and gents, I introduce you to my very own little Ashford Traveler, circa the mid to late 1970s (my own vintage, btw). Ain't she a beauty? Wonderful Katherine
bought
her for me (I love ebay so much it hurts), and after a few unsuccessful to get some yarn out of her, we've now become good friends. And there she sits, in the middle of the chaos of my kitchen, like the perfectly lovely gal she is. I don't actually spin right there, I sit on the ottoman (which is ironically full of yarn I have yet to use) in the chaos that is my living room and spin while I listen to reruns on television.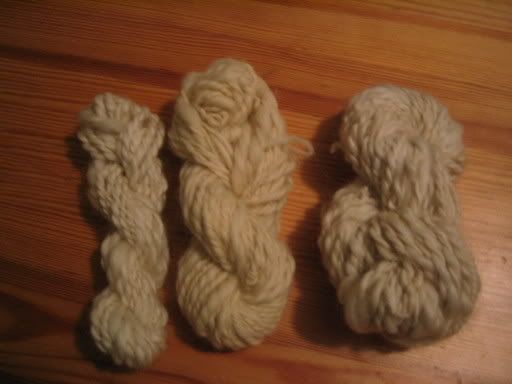 And what did I manage to make with my lovely little Ashford Traveler? you ask. I made some lovely merino and some lovely merino and other soft stuff yarn. Behold it's glory on the left, and a pretty little close-up below that. Three fat little skeins of soft fluffy stuff, plied and happy. I'm thinking they might like to be some fun psychadellic color, and I've got a whole cupboard full of Koolaid and Wiltons just dying to be dye, but I'll decide that when it's lighter out. No clue what I'm going to do with the yarn, since there's not all that much there (and it's probably close to super-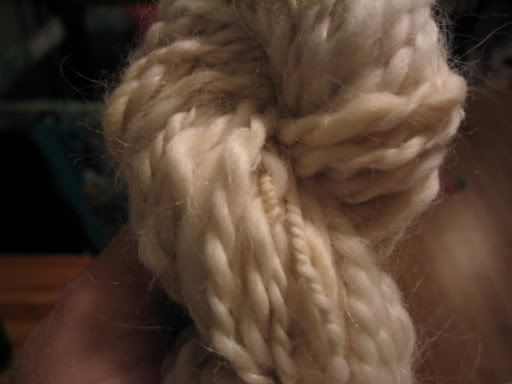 bulky weight, since it's my first yarn and all), but maybe when I've got some more I can make a nice bulky hat or something. My mom is dying to play with it, which is probably good, since to me, it looks like nothing so much as those cords that you use to tie back your curtains.
My spindling for the shawl contest is going well, too. I'll have to post a picture of what I've got so far one of these days. I'm using merino from Grafton Fibers in "M30", gorgeous brown with turquoise running through it. The stuff I just got has an awful lot of yellow in it, so we'll have to see how it blends in with the other stuff. Now I'm just waiting on my niddy noddy (finally got a full sized one since those little fatty skeins I was getting off the "traveler's" niddy noddy I already had were getting a little silly) so I can set the twist and get to knitting with the rest of it. No doubt spring will appear as soon as I get it finished and I'll have to wait until next winter to use it, but that's ok,
I plan on keeping it for a nice long while!
And, just for fun, a gratutitous picture of my little boy, drooling and looking like a linebacker in a sweater I did not make for him (but isn't it cute anyway?).